Refinery Benzene Fenceline Monitoring
The Refinery Sector Rule was finalized on December1st and petroleum refineries will now be required to continuously monitor their fenceline for Benzene using EPA Methods 325A and 325B.
Camsco has implemented EPA Method 325 Monitoring Programs at various refineries helping to prepare our clients for the new regulation. Our Monitoring Program provides a simple, clean, turnkey solution for the benzene fenceline monitoring requirements. We offer both Short Term Pilot Monitoring Programs (1-11 months), as well as Long Term Monitoring Programs (>12 months). We highly recommend facilities to conduct a Pilot Program before data is required to be reported to the agency.
Conducting a pilot study will allow you to:
Measure your current Benzene Concentrations

Allow you to identify any issues with your facility

Increase lead time for internal corrective actions

Gain practical experience with this type of monitoring

Secure a service provider and lock in better pricing

Monitor under the confidentiality of the facility before reporting is required
Feel free to contact us to receive a site specific cost estimate using the buttons on the right or at (800) 448-9057.
Our 3 Step Solution Helps you Easily Start Monitoring at Your Facility
Step 1 – Set Up Monitoring Program
Easily Set up a Monitoring Program based on the number of monitoring locations required at your facility. If you need help determining how many monitoring locations your refinery will need, we can assist you with that as well. Once the number of monitoring locations is determined, setting up your program is quick and easy. We will provide you with a monitoring schedule of when you will be deploying/harvesting tubes and receiving fresh sampling kits.
Small Refinery
<750 acres
12 locations

Medium Refinery
751-1500 acres
18 locations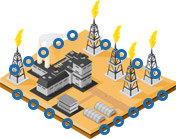 Large Refinery
>1500 acres
24 locations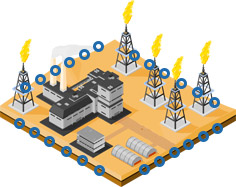 Step 2 – Equipment Supply
Camsco will provide you with all necessary Benzene Monitoring Equipment that complies with EPA Method 325 A&B. Once your monitoring program schedule is finalized, tube shelters will be shipped to your facility a couple of weeks ahead of time for field personnel to install at the monitoring locations. Just before the first tube deployment, your sampling kits will arrive. Fresh sampling kits will continue to arrive at your facility before deployment is necessary.

Sampling Kit Components
Passive Sampling Tubes in tube storage containers
2 Wrenches for use with Compression Caps
Diffusive Sampling Caps
Field Test Data Sheets & Chain of Custody Forms
Clipboard & Pen
Nitrile Gloves
Sample Identification Bags
Numbered Security ties for shipment to Laboratory
Sweat Resistant Ice Packs
Desiccant pack to reduce moisture
Step 3 – Laboratory Analysis Data/Results
After each 14 day sampling event you will use the prepaid shipping label for shipping samples to the laboratory. Within 24 hours of sample receipt by the laboratory, your project manager will receive a notification that the samples were received in good condition. Your data/results will be provided within the time frame agreed upon in your monitoring program.