Fenceline Monitoring Standards for Refineries
The petroleum industry is the largest industrial source of emissions of volatile organic compounds (VOCs), a group of chemicals that affect public health directly as well as indirectly by contributing to the formation of ground-level ozone (smog). The United States Environmental Protection Agency (EPA) estimates VOC emission from the oil & natural gas industry at 2.2 million tons a year in 2008. The EPA has proposed a rule scheduled to be promulgated in 2015 that will amend the standards for hazardous air pollutants that are emitted from refineries.
EPA Methods 325A and 325B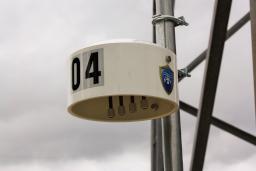 EPA methods 325A and 325B select benzene as the representative compound to evaluate the overall emissions from refineries. Passive sampling onto sorbent tubes followed by TD-GC/MS analysis has been established as the standard air monitoring technology for the EPA's proposed rule.
Refineries contain many sources of emission points for VOC's, as a result of this, passive sampling tube/shelter assemblies will be hung on various locations along the fenceline surrounding refineries. After two weeks (14 days) passive sampling tubes can be detached from their shelters, re-sealed and sent to a laboratory equipped with TD-GC/MS for analysis. Per EPA Method 325, all tubes must be replaced with freshly conditioned and qualified sampling tubes every 14 days to ensure continuous monitoring.
Refinery Sector Final Rule and New Source Performance Standards
The EPA defines the scope of the methods 325A and 325B as the collection of volatile organic compounds (VOC's) at facility property boundaries as well as from fugitive and area emission sources using passive (diffusive) tube samplers to determine the concentration of airborne VOC's at or near these potential emission sources. These methods may be used to obtain the average concentration of the select VOC's as well as their corresponding uptake rates.
EPA method 325 requires deployment of passive sampling tubes on the facility fenceline or property boundaries and collection of local meteorological data. It may be used to determine average concentration of VOC at a facility fenceline or property boundaries using time integrated passive sampling.
EPA methods 325A and 325B may be used to determine the average airborne concentration of VOC's at a facility fenceline or property boundary over an extended period of time by using using time integrated passive sampling. To obtain accuracy these methods require the collection of local meteorological data, such as wind speed and direction, temperature, or barometric pressure.
The methods provide a low cost alternative to screen fugitive or area emissions as compared to active sampling methods that involve pumped sorbent tubes or time weighted average canister sampling. More infomation about EPA methods 325A and 325B can be found in the Federal Register under the title "Petroleum Refinery Sector Risk and Technology Review and New Source Performance Standards".
CAMSCO Refinery Solutions
Camsco's Fenceline Monitoring Program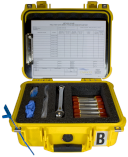 Our program gives refineries an easy to implement solution that complies with the new EPA method 325A/B fenceline monitoring requirements.
Benzene Monitoring Equipment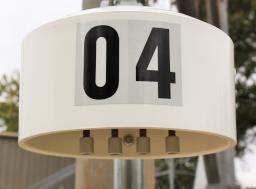 Refineries will be required to have a minimum of 12 sampling locations around the facility. See our Passive sampling tube shelter assembly for EPA Method 325 Fenceline Monitoring.
EPA Petroleum Refinery Rulemaking Repository

View the EPA repository of pending emission control requirements affecting the petroleum refinery industry including the proposed EPA method 325.
Request Information
Get information on how Camsco's Fenceline monitoring Program can help your refinery.
Contact Us
CAMSCO Inc.
6732 Mayard
Houston, TX 77041
1-800-448-3280